Neo-Nazis rally outside Broadway preview of 'Parade,' about an antisemitic murder​
Link:
https://www.jta.org/2023/02/22/unit...preview-of-parade-about-an-antisemitic-murder
BY
PHILISSA CRAMER
FEBRUARY 22, 2023 8:43 AM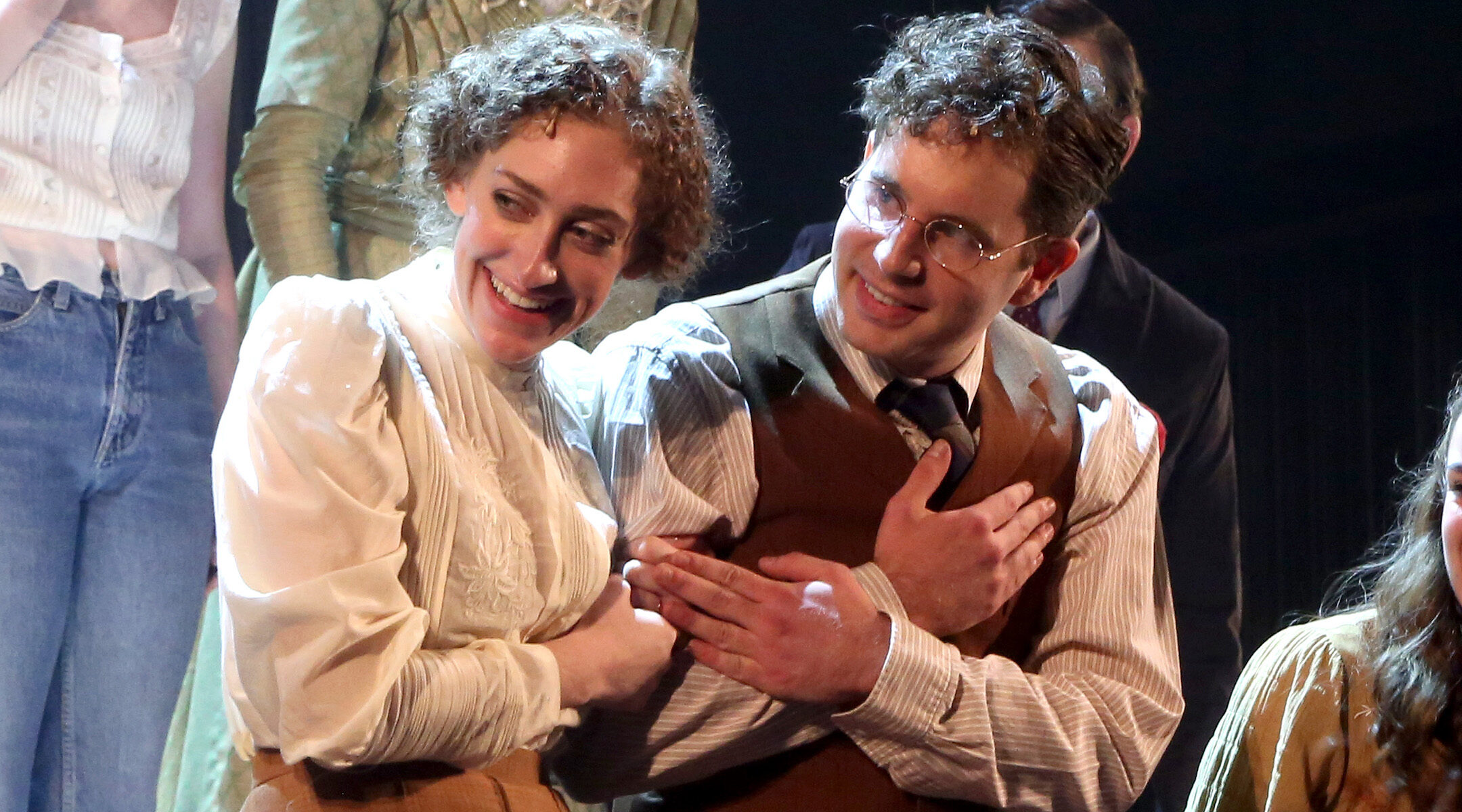 Micaela Diamond and Ben Platt during the opening night curtain call for "Parade" at New York City Center, Nov. 1, 2022. (Bruce Glikas/WireImage/GettyImages)
(
JTA
) — Members of a neo-Nazi group rallied Tuesday night outside the Broadway theater that is hosting "Parade," a play about the 1915 lynching of a Jewish man in Georgia.
"It was definitely very ugly and scary, but [also] a wonderful reminder of why we're telling this particular story, and how special and powerful art and particularly theater can be," star Ben Platt said in a statement on Instagram after the performance, the first preview in the revival's Broadway run.
Platt stars as Leo Frank, the Jewish manager of an Atlanta pencil factory who was accused of murdering a girl whose body was found there in 1913. Despite little evidence, Frank was found guilty of killing Mary Phagan, who had worked at the factory, and was sentenced to death. In 1915, when Frank's sentence was commuted to life in prison, he was kidnapped by an armed mob and lynched. The case spurred both the
creation
of the Anti-Defamation League, the Jewish civil rights group whose activities include monitoring neo-Nazi activity, and the revival of the Ku Klux Klan white supremacist hate group.
The protesters, who identified with
the National Socialist Movement
, a neo-Nazi group headquartered in Florida that has a swastika in its logo, carried a poster that accused Frank of being a pedophile, according to videos shared from the incident. That allegation is frequently made by
neo-Nazis who reject the consensus
that Frank was innocent of the crime. They see the advocacy on his behalf as evidence of Jewish contro
l
of the media, a longstanding antisemitic trope.
The "Parade" protesters also distributed antisemitic literature and criticized the ADL, according to videos shared on social media from the scene.
One video
shared on Twitter suggested that at least some people present jeered the neo-Nazis. The protesters held a white banner with red capital letters reading "Leo frankly was a pedo."
"Are you really doing the real work of an artist if you aren't be[ing] protested by Neo Nazis?" a cast member, Prentiss Mouton, posted on Instagram, over a clip of the incident filmed from above. "If I wasn't proud enough to be a part of this production it was solidified today."
Platt, who is Jewish, said the incident underscored the need for "Parade" at a time when watchdogs say antisemitism is on the rise in the United States.
"I just think that now is really the moment for this particular piece," he said. "I just wanted the button on the evening, at least for me personally, to be to celebrate what a beautiful experience it is and what gorgeous work all of my wonderful colleagues did tonight. Not the really ugly actions of a few people who are spreading evil."
Platt thanked the Bernard Jacobs Theater for keeping cast and audience members "super safe and secure — as you will be, too, when you come see the show."
"Parade" first played on Broadway in 1998. The musical written by Jason Robert Brown and Albert Uhry won Tony awards for best book and best score. The revival, which
officially begins March 16
, follows
a seven-performance off-Broadway run last year
.