Quebec Court judge says what Justice Marshall did to the victim and her family is like "the plot of a B horror movie."

montrealgazette.com
Man who carved initials into girl's breasts sentenced to 42 months​
Quebec Court judge says what
Justice Marshall
did to the victim and her family is like "the plot of a B horror movie."
Author of the article:
Paul Cherry
• Montreal Gazette
Publishing date:
Oct 24, 2022 • 1 day ago • 3 minute read •
7 Comments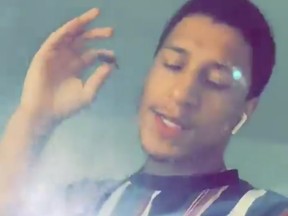 Factoring in time already spent in prison,
Justice Marshall, 20
, is left with more than 16 months to serve. Facebook
A man who carved his initials into the breasts of a
16-year-old girl
and threatened to kill her has been sentenced at the Montreal courthouse to a 42-month prison term.
While summarizing the case, Quebec Court Judge Salvatore Mascia said what Justice Marshall, 20, put the girl and her family through was like "the plot of a B horror movie."
"I'm not here to exact vengeance for the victim. However, a sentence has to reflect the values of society," Mascia said, adding courts must denounce domestic violence.
"Sentences have to be meaningful. A sentence has to reflect what happened to the victims in this case."
The Crown requested a four-year prison term, while Marshall's defence lawyer Stéphanie Gariépy argued his sentence should be the two years he's already served behind bars.
With time served factored in, Marshall must serve a prison term of more than 16 months. The judge added a month, to be served consecutively, because Marshall violated a court order from a previous case prohibiting him from possessing a weapon.
Mascia said he did not find the Crown's sentencing suggestion to be excessive but was willing to give Marshall "a small discount" because of his young age.
During sentencing arguments, Gariépy argued Marshall had a difficult upbringing. He learned, at the age of 13 or 14, that he was adopted. He fell into a depression and his life spiralled down from there, Gariépy told the court.
"The only role models he had were men who beat on his mom," Mascia noted. "He did not have the opportunities that other young men had."
In 2020, Marshall and the girl were in a relationship that lasted five or six months. The relationship became toxic as he became jealous and possessive.
Marshall carved the letter J into the girl's breasts twice. As part of his defence, he claimed the victim initially consented to what he was about to do. The victim testified she asked Marshall to stop when it became too painful, and he ignored her pleas.
In another incident, he ran a knife across her body without cutting her and while she was blindfolded.
"So we not only have physical injury but long lasting psychological injury," the judge said, later adding the carving was an act of misogyny. "I hope she will get her life together but it will be forever affected by the experience she had."
Marshall threatened to kill the girl through a series of text messages they exchanged at a time when she was trying to break up with him.
"I will stomp your face into the asphalt," he wrote in one message, adding: "I want to get arrested."
"The minute I find there is another man with you, you will be seven feet under," Marshall wrote in another message.
"I'm scared for my life," the girl wrote back at one point.
"I don't give a f—. Be scared all you want," Marshall replied.
He later tried to contact the girl at her family's home but ended up speaking to a 17-year-old male friend. The pair exchanged insults before Marshall showed up at the house with a knife. He put the knife to the 17-year-old's throat outside the home and threatened to kill him.
The girl's father, who was in the basement at the time, was alerted to what happened. He grabbed a baseball bat and asked Marshall to leave. Marshall responded by taking out his knife and threatening the father before he left with the 16-year-old girl.
Marshall took her to his sister's home where he removed the SIM card from her cellphone in an effort to prevent it from being tracked. He then took her to a hotel where he told the 16-year-old he wanted to commit suicide and tried to convince her to do the same.
The police found Marshall and the girl at the hotel and he was arrested.
"It's a horror story. It's a terrifying tale," Mascia said. "The facts are horrifying."