American Jews Are Starting Wars, Jewish Former CIA Spy Valerie Plame Wilson Retweets​
BY
STAV ZIV
ON 9/21/17 AT 1:30 PM EDT
Link:
https://www.newsweek.com/americans-...sh-former-cia-spy-valerie-plame-wilson-669118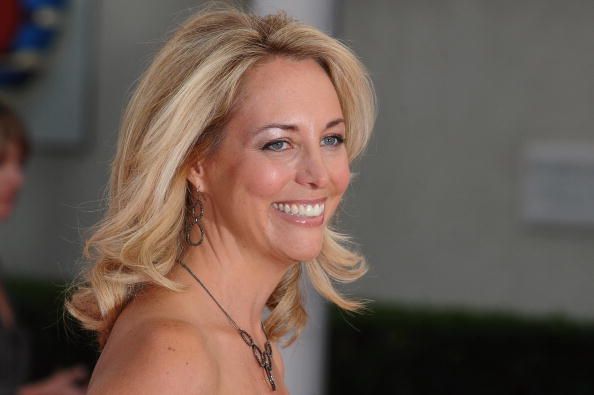 Former CIA Operations Officer Valerie Plame attends the premiere for the film 'Fair Game' during the 36th Deauville American Film Festival in Deauville, France, on September 9, 2010. Wilson was recently lambasted for tweeting an article titled "America's Jews Are Driving America's Wars.
U.S.
JEWS
IRAN
MIDDLE EAST
ANTI-SEMITISM
Updated
| Valerie Plame Wilson landed herself in hot social media water when she
tweeted
out a link to a story titled "
America's Jews Are Driving America's Wars
" on Thursday without any commentary to explain why she was sharing it.
The article, published in The Unz Review, was published
Tuesday
by Philip Giraldi,
a former CIA case officer and Army intelligence officer
. Subtitled "Shouldn't they recuse themselves when dealing with the Middle East?," Giraldi argued that American Jews are pushing for war in the Middle East and pointed to Iran in particular, which he said "does not conceivably threaten the United States."
American Jews, according to Giraldi, are faking the threat and dragging politicians and the media down with them. American Jews with an attachment to Israel, he added, should not be allowed anywhere near positions where they might deal with Middle East policy because it would be a "conflict of interest."
So why doesn't anyone say anything? Giraldi has an answer for that too. And it involves a classic anti-Semitic trope about Jews running the media. "Any organization that aspires to be heard on foreign policy knows that to touch the live wire of Israel and American Jews guarantees a quick trip to obscurity," he wrote. "Jewish groups and deep pocket individual donors not only control the politicians, they own and run the media and entertainment industries, meaning that no one will hear about or from the offending party ever again."
The reaction to Wilson's tweet sharing the story was fast and furious.
One user said
, "Um, what is this? You're one of my heroes. Please tell me it's a mistake." Another
pointed out
the added insult of timing, since Thursday is the Jewish new year, one of the most important holidays for Jews: "Why the hell would you retweet this drivel? On #RoshHashana none the less. Do you really believe this?"
A third said
, "Please tell me you were hacked or meant to quote tweet this anti-Semitic garbage with criticism." Another
questioned
, "You're seriously retweeting this? Btw, can be perceived like you wrote it until one clicks link. You actually support this?"
But Wilson was not deterred. She responded with a series of tweets:
1)

First of all

, calm down. Re-tweets don't imply endorsement. Yes, very provocative, but thoughtful. Many neocon hawks ARE Jewish.

2)

Just FYI

, I am of Jewish decent. I am not in favor of war with Iran, or getting out of the Iran nuclear treaty. There are simply

3)

too many

who are so ready to go to war. Haven't we had enough for a while?

4) Read the entire article and try, just for a moment, to

put aside

your biases and think clearly.
RELATED STORIES
Less than an hour and a half later, she sent four additional tweets with a very different tone, apologizing for her previous missives:
OK folks, look, I messed up. I skimmed this piece, zeroed in on the neocon criticism, and shared it without seeing and considering the rest.

— Valerie Plame Wilson (@ValeriePlame)

September 21, 2017
But Wilson has previously tweeted out articles by Giraldi published on Unz. In 2014, she
commented
"Well put, Mr. Giraldi" on a story he wrote titled "Why I Still Dislike Israel." The following year she tweeted out another of his pieces, saying, "I never heard this story about 9/11." It
claimed Israelis danced
in response to the 9/11 attacks.
Her apology was
accepted
by some, but
dismissed
by others
who pointed to an obviously problematic headline and article as well as to Wilson's
past
comments on Twitter. Skeptics included the actor Seth Rogan, who
tweeted
: "Undercurrent? That's the whole current."
Wilson is a former CIA operative who was famously unmasked by columnist Robert Novak in 2003. She wrote a memoir about the affair,
Fair Game: How a Top CIA Agent Was Betrayed by Her Own Government
, which was later adapted into a film starring Naomi Watts and Sean Penn.
Note: This story has been updated to include Wilson's apology in follow-up tweets.